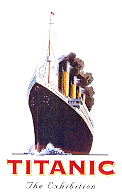 ZIP Files
of this site
---
1. Create a directory on YOUR hard drive. (example: C:\Titanic).
2. Download the INDEX zip file into this directory.
3. Unzip the INDEX zip file into this directory.
4. Download any/all the chapters you wish into this directory
5. Unzip any/all the files that you download into this directory.
6. In you browser (Netscape, MS Explorer etc.) choose FILE/OPEN FILE
7. Select the INDEX file in your Titanic directory

This should give you access to the chapters. If it does not please let me know so that I may make corrections.

If you wish to have sections of the site that are not currently zipped and available for you to download please let me know. I will zip them and add them to this page and notify you.

Thanks.
---

Index (Home Page)

Chapter I (1.4 mb)

Chapter II (.7 mb)

Chapter III (.9 mb)

Chapter IV (1.2 mb)

Chapter V (1.7 mb)

Chapter VI (1.1 mb)

Chapter VII (.6 mb)

Chapter VIII (.8 mb)

Chapter IX (1.0 mb)

Chapter X (1.1 mb)

Chapter XI (.7 mb)

Chapter XII (.8 mb)

Chapter XIII (.9 mb)

Chapter XIV (1.3 mb)

Chapter XV (.9 mb)

Chapter XVI (.4 mb)

Chapter XVII (.8 mb)

Chapter XVIII (1.5 mb)

Chapter XIX (1.0 mb)

Chapter XX (.7 mb)

Chapter XXI (1.0 mb)

Chapter XII (.8 mb)

Chapter XIII (.6 mb)
---
Site design by THE RESOURCE CENTER